by Opal Tidwell, Administrative Assistant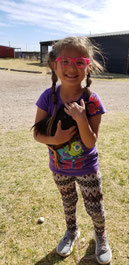 Rise and shine 
And give God the glory, glory 
Children of the Lord
We are excited to start a new opportunity for those who would like to volunteer at NMBCH! Saturday April 1st marked the start of Side-By-Side Saturday. We had several volunteers from CAFB and ENMU come out to work alongside our kids and staff. This month we focused on getting the barn ready for animals. The kids will be gearing up for 4-H projects soon. The team was amazing to say the least. They cleaned pens (inside and out), cleared tumbleweeds, hauled trash, all the while keeping a smile on their face. We found some time for a little fun along the way with wheelbarrow rides, rooster chasing, egg gathering, water and blower wars and to top it off the ENMU students had an Easter Egg Hunt with the kids on campus! We ended the afternoon with fellowship and Pizza! Thanks to each of you for investing in our ministry, campus, and most of all our children!  
Side-By-Side Saturday will be held the first Saturday of every month (unless it is a holiday weekend). We will focus on a couple of projects that need to be done around campus each month. This may include yard work (there's never a shortage of tumbleweeds), organizing the clothing closet, or cleaning and repairs to cottages, etc...
Looking for more information? Want to join in on the fun? Click here to sign-up for the next Side-by-Side Saturday.
Side By Side……We Press On!