By Dana Philips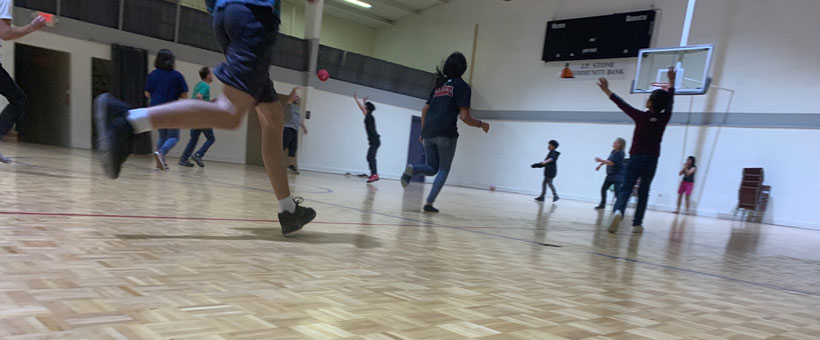 Over the last few weeks, life has changed throughout the world due to the COVID-19 virus. Things that were just a normal part of life have all but disappeared - classrooms remain empty; celebrations are postponed or canceled; restaurants are pick-up or delivery only; the church gathers online. Life looks different - for now.  "Early on, we determined to isolate our kids from every opportunity to be exposed to the virus spreading around our nation. Our kids do not leave campus for any reason and we do not have visitors until this thing passes. They are coping remarkably," stated Randy Rankin, President of NMBCH. While the Hope Center lobby has temporarily closed, the Family Ministries team is still here for the community and can be reached by calling 575-226-3759.
The staff has helped the children on campus deal with this new reality without fear. They have found ways to continue learning, be productive, and to have fun. "During this time of doubts, fears, schools closing, and stay at home orders, we are making the very best of it. One would tend to think, 'Oh my, what in the world are those folks doing to cope with all those kids running around all day with nothing to do?' Well, I can tell you at this point we have not experienced a dull moment! Our staff has come up with so many creative things and activities it seems like we are busier than we were before," said Randy Rankin.
What does a typical day during the COVID-19 crisis look like at NMBCH Portales Campus? It is busy! After breakfast, kids exercise, do schoolwork, work at the barn, work on a craft project, and then eat lunch. After lunch, more schoolwork and barn time, and relaxing with a movie or board game. Late afternoon will find the campus with sounds of children playing outside before dinner. Evenings are full of finishing chores, practicing a new skill, and relaxing together. The most important moment of the day is the time when the cottage family gathers to study the Bible.
The NMBCH Family has found many ways to have fun together during this time in our nation's history. The first annual BCH Chili Cookoff occurred just a few days ago. The kids broke up into teams and worked together to come up with the best chili recipe. Our judges enjoyed tasting each pot of chili, but Team Kaia came in first place with Team Marshall in second. If you would like to try out the winning recipes, click here. The gym has hosted basketball games with the house dads and kids, group sing-a-longs, and movie and popcorn times. The greenhouse and campus garden are ready for the growing season thanks to our little gardeners. The girls have learned to french braid, the "Boys to Men Club" have learned to fix a leaky pipe, and Hubbard Cottage's kitchen has produced homemade pizzas, bread, and funnel cakes. 
On Sunday morning, the campus gathered in the newly built NMBCH chapel to stream the FBC, Portales worship service. We continue to pray for our nation during this time and praise God that He is in control of all things. Our hope is found in the Creator and Sustainer. While we practice all the safety measures recommended by the CDC, we do not fear for God declares the end from the beginning. (Isaiah 46:9-11).
Stay up to date with the happenings of NMBCH by following us on Facebook.