By Laura Reynolds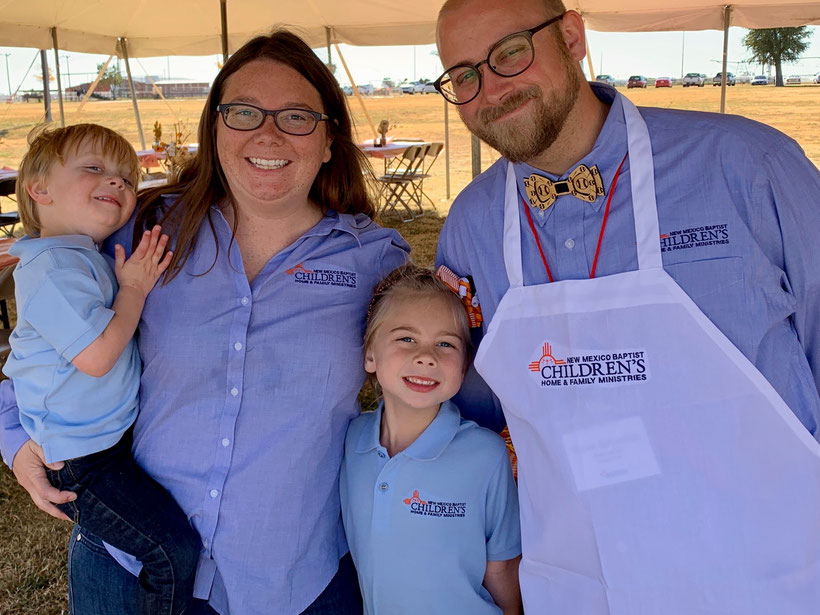 We are Laura, Steve, Ruth (6), and Elijah (4) Reynolds. Working at the Baptist Children's Home is a family affair for us. It's hard to believe we are approaching our one-year mark in Portales! Most people have loads of questions about how our family works together in this ministry. We hope sharing our story will answer the biggies and explain why our ministry is vital in New Mexico.
Our journey to working with children from hard places started about 10 years ago. As we were preparing to get married and move out West for seminary, we also began praying that God would grow our family through adoption. This dream of adoption has definitely changed and shifted over the last ten years as He has opened and shut different doors, but the calling to children from hard places has remained the same. In June of 2018, we obtained a license for foster care in the state of New Mexico.  Loaded with training, experience, and a whole lot of excitement, we found ourselves moving to the New Mexico Baptist Children's Home just nine months later. We grew from a family of 4 to a family of 12 overnight!
Most people want to know about our forever children and their experience. We see our family as a ministry team. Their gifting and personalities play a vital role in our work here. Ruth's name means 'friend,' and she fully embodies that meaning. She loves deeply and her light for Jesus shines brightly. She challenges us as she shares the gospel with others freely. She knows why the other children live here and gives sacrificially of her parents, space, and toys for the sake of Christ. Elijah brings a different gift to our team. He does not understand why our cottage kids are here, and, as a result, he loves every child just as they are, not questioning their circumstances and pasts. Do they experience hurt from time to time? Yes. That is the brokenness of this world from sin. However, the Lord continues to show our family that the hardships are worth it because our Savior is worth it. Their sacrifices are being used to grow the kingdom of God.
 Another question we are asked is, "How it is done?" This is a very good question. First, time management is key! The laundry never stops turning (as we run about 50 loads a week); there is always a meal or snack on the horizon (our crock-pot works harder than any of us most days); and there is always some place to be (gymnastics, speech, soccer, music, dental appointments, etc.). Our job requires two full-time stay-at-home parents to stay on top of it all. While it may sound hectic, and it certainly can be, Christ provides calm in the midst of the chaos. The Lord tells us how to teach our children His Word and His ways (Deut. 6:6-9); we try to utilize every opportunity we are given along the (eventful) way to tell them of His greatness.
More than anything, this job is evangelism, discipleship, and our personal sanctification. These children have been given challenging paths to walk, but we know the One who has walked every difficult path before them. He has knit them together in their mothers' wombs for a purpose, and that purpose is to worship Him. Without the role of house parents many of our children may have never been introduced to the gospel, which brings them hope. Pointing our children to the Father is the most important role of a house parent. We are learning to trust Him daily as we will never be enough for them, but thankfully He is.
We hope our story gives you a better understanding of what it's like to work as house parents at the New Mexico Baptist Children's Home. We pray you see the vital necessity of our ministry and will find a way to join us in it through prayers, giving, or even visiting us here!